Domenick J. Sisto, MD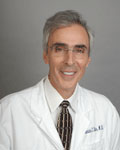 Biography
Dr. Domenick J. Sisto is a Board certified orthopedic surgeon specializing in the care of athletically active adults with injuries or disorders of the knee and shoulder. Dr. Sisto earned his Bachelor's degree from the University of Vermont and his medical degree from the George Washington University Medical School.
Following a general surgery internship at Yale-New Haven Hospital, he completed an orthopedic residency at the world-renowned Hospital for Special Surgery in New York City. His formal training was concluded with a Fellowship in Sports Medicine at the Kerlan-Jobe Orthopedic Clinic in Los Angeles, California.
Dr. Sisto is a respected authority on the treatment of the knee and shoulder, and he has pioneered the renowned non-surgical treatment regimen used by Los Angeles Orthopedic Institute. Dr. Sisto's groundbreaking clinical research has formed the basis for numerous contributions to peer-reviewed journals and books.
Curriculum Vitae (Click to Download)
What patients are saying about Dr. Domenick J. Sisto, MD