Gregg R. Sobeck, MD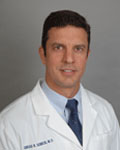 Biography
Knee, shoulder, and hip specialist Gregg R. Sobeck, MD, earned his Bachelor's degree from the Johns Hopkins University in Maryland and his medical degree from the Pennsylvania State University College of Medicine. He completed an orthopedic surgery internship and residency at the Geisinger Medical Center in Danville, PA, and performed an additional orthopedic surgery residency at the Children's Hospital in Wilmington, DE.
After completing a one-year Fellowship in Sports Medicine/Arthroscopic Surgery at Los Angeles Orthopedic Institute, Dr. Sobeck became Board certified in Orthopedic Surgery in 2002. An active staff member at three local hospitals and an associate staff member at Northridge Hospital Medical Center, 
Dr. Sobeck continues to hone his skills at numerous continuing education courses given by the American Academy of Orthopedic Surgeons, the California Orthopaedic Association, and others.
Curriculum Vitae (Click to Download)
What patients are saying about Dr. Gregg R. Sobeck, MD