Richard E. Nussbaum, MD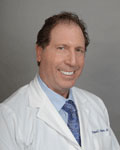 Biography
Dr. Richard E. Nussbaum is a specialist in spinal surgery and disorders of the spine. A graduate of the State University of New York at Albany, the Columbia University School of Graduate Studies, and the University of Sorbonne, he earned his medical degree from New York Medical College. He completed an internship and residency in orthopedic surgery at Montefiore Medical Center in NY, and a one-year Fellowship in Spine Surgery at Orthopedic Hospital.
Dr. Nussbaum is a nationally renowned expert in minimally invasive spine surgery. The first Los Angeles area spine surgeon to perform herniated disc repair using the new HydroDiscectomy™ procedure, he lectures widely and has taught symposia and courses in France, Mexico, So. Korea, China (see photo on right), and the US. He is an active staff member at four area hospitals and serves as a consultant to two biomedical companies.
New Advancement for treatment of neck paid being pioneered by Dr. Richard Nussbaum. Click here to learn more.
Curriculum Vitae (Click to Download)
What patients are saying about Dr. Richard E. Nussbaum, MD