Alexandria "Allie" Skow, PA-C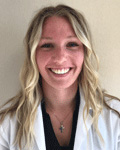 Biography
Alexandria Skow, PA-C, has been a part of LAOI since August 2018 and brings enthusiasm and joy to our practice. After experiencing her own orthopedic injuries as an adolescent, she not only brings passion to orthopedics, but great sympathy towards our patients. She also believes that each patient should be treated individually and with a holistic approach.
Alexandria is a graduate of Marquette University in Milwaukee, WI for both her Bachelor's degree and Master's in Physician Assistant Studies (MPAS). She received her Bachelor's degree in Biomedical Sciences and attended PA school through an accelerated program allowing it to overlap with her undergraduate years. Since joining LAOI, she first assists in surgeries as well as manages patients in both a hospital and clinic setting.
Alexandria is a member of the American Academy of Physician Assistants (AAPA) and Physician Assistants in Orthopedic Surgery (PAOS).